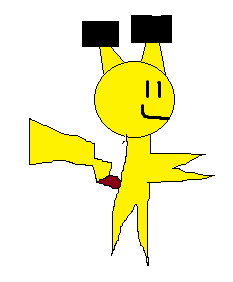 Bionic Pokemon came to be when my friend Ryan picked up his pencil. Bionic Pokemon is Super Nude Hamster's best friend and he loves to sleep. He has iron ears and a magnetic tail. He is also equiped with super hearing.
Trivia:
This is like the origional drawing. Ryan happened to draw arms that way.
I've taken over the comic-making for Bionic Pokemon, and I don't know why.

*BP is the only member of Team Super without a cape.