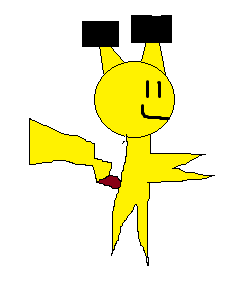 Bionic Pokemon came to be when my friend Ryan picked up his pencil. Bionic Pokemon is Super Nude Hamster's best friend and he loves to sleep. He has iron ears and a magnetic tail. He is also equiped with super hearing.
Trivia:
This is like the origional drawing. Ryan happened to draw arms that way.
I've taken over the comic-making for Bionic Pokemon, and I don't know why.

*BP is the only member of Team Super without a cape.
Ad blocker interference detected!
Wikia is a free-to-use site that makes money from advertising. We have a modified experience for viewers using ad blockers

Wikia is not accessible if you've made further modifications. Remove the custom ad blocker rule(s) and the page will load as expected.